IntelliPass Screening Solution
Monitors body Temperature
Facial Recognition for check-in & contact tracing
Easily integrated with your existing systems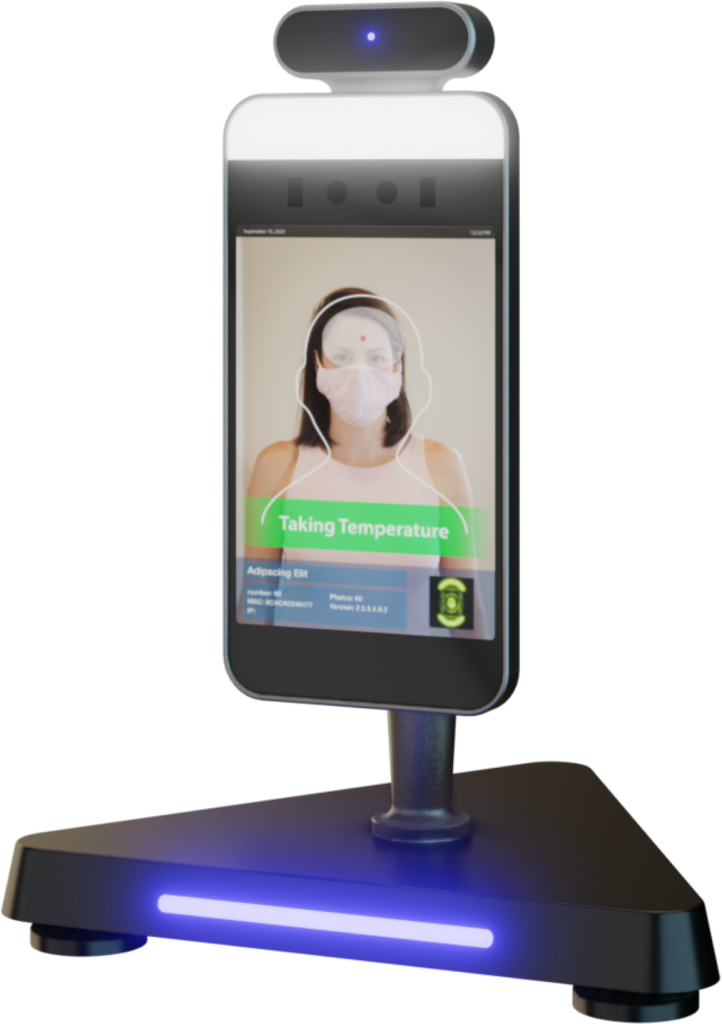 INTELLIPASS SCREENING SOLUTION
With the spread of COVID-19, workplaces around the world are looking for ways to provide a safe environment for employees and guests. The IntelliPass Screening Solution (IPSS) measures body temperature, checks for a mask, and uses facial recognition to record the data automatically.

The IPSS uses a high-speed hardware platform that includes an industrial-grade binocular camera, face biometric recognition technology, and an infrared thermal imaging module. It provides very fast face detection within its database of 30,000 faces on the device. The thermal imager units perform the human temperature detection and warn on high temperature with audio and visual alerts.

The platform can also be extended to various peripherals such as ID card or fingerprint readers. With its electric gate interface, it can open or close a gate on successfully meeting the user-defined criteria. The accompanying portal provides a real-time data log that is used to produce compliance reports and populate the dashboards.
Non-intrusive
No person required for manual temperature scans
Access control
Connects to gates and other access devices to open/close
Touch-free experience
Facial recognition allows for safe access without needing ID cards
Quick and Easy
Personnel and mask detection under 0.3 sec
Dedicated Hosting Environment
Hosted in AZURE cloud using Microsoft .NET stack.
Standard cloud based platform utilized and maintained with purchase of monthly or yearly subscription
On-premises deployment is available for enterprise-grade hosting.
In circumstances due to security or other firewall restrictions don't allow for cloud based connections, a local hosting on a local network can be installed.
These installations vary by project and prices are based accordingly.
Designed for Easy System Integration
Built on 100% REST API's
The IPSS uses a flexible API making it easy to integrate with 3rd party software, including popular HR platforms e.g. Peoplesoft, SAP HR, Workday and others.
Access data live in real time
Online dashboard to view data, run audits, and contact tracing
Real-Time Detailed Reporting
Real-time device monitoring for Asset management by push notifications (via email and SMS) for alert conditions like no-Mask, high temperature.
Push notifications and recording instances allow for monitoring and managing compliance in real-time or historical periods.
Key reports: Risk assessment and scan logs for audit trail
Detailed events are recorded allowing for detail analysis and reporting over specific periods of time. This allows for details compliance auditing in the case specific protocols and in place and require verification.
Ability to hide PHI (patient health information) from unauthorized users.
Due to government regulations and policies, the system allows for configuration to hide any personal information that employees/individuals may be sensitive to.
Secured data with encryption in Transit (end to end encryption) and encryption at rest. (encrypted database MS SQL)
High security encryption (AES 256-bit encryption) ensures your data is safe from any unauthorized access, wether using the cloud or on-premise server
The software supporting the IPSS is at the core of our solution, allowing for detailed data collection across multiple devices. The IPSS provides you with detailed information about the health and safety of your organization.