OFITE RISK MITIGATION TECHNOLOGY
Personal Protective Equipment
OFITE's personal protective equipment is designed to maximize safety and minimize barriers to use by creating products that are both functional and comfortable.
Our Gladiator Face Shield goes above and beyond traditional PPE to promote personal protection in a variety of scenarios. We achieve this through careful design considerations and exclusive technologies.
The gladiator mask was tailored according to medical specifications, the innovative polypropylene double strap headband reduces the perceived weight. The ergonomic shape provides excellent nose, eyes, and mouth protection. The 2mm thick shield is manufactured using LEXAN polycarbonate making it easy to sanitize.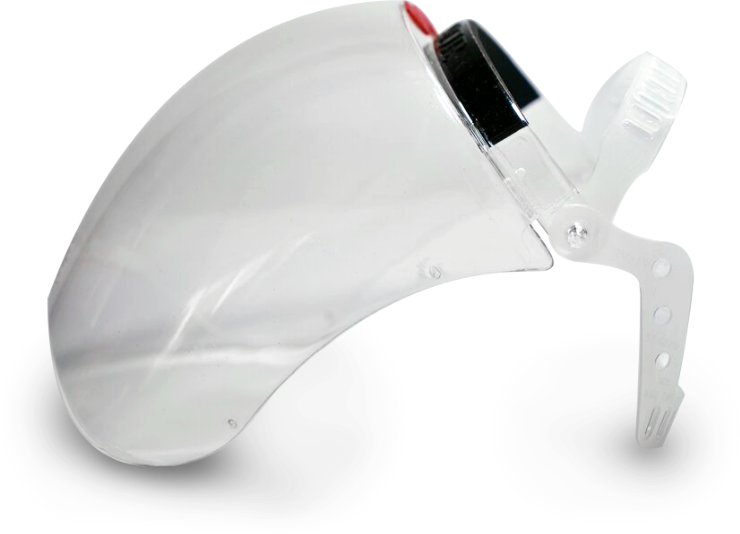 Multi-use: Medical, industry and J.R
Advanced Lexar or polycarbonate materials
Professional Recommendations for the use of face shields
Face shields should be the preferred personal protective equipment of everyone for the same reason health care workers use them. They protect the entire face, including the eyes, and prevent people from touching their faces or inadvertently exposing themselves to the coronavirus."
— Dr. Perencevich. infectious disease physician at the University of Iowa.
"I think every person should have a face shield," Edmond told Dezeen. "It should be worn anytime they leave their home, while in any public place, and even at work. I believe that if every person wore a face shield when out of their home, we would bend the curve faster and return to normal life sooner." They provide better facial protection than masks, Edmond believes, as well as being reusable and more comfortable. They also prevent wearers from touching their faces.
— US physician and epidemiologist Michael Edmond.
Most importantly, face shields appear to significantly reduce the amount of inhalation exposure to influenza virus, another droplet-spread respiratory virus. In a simulation study, face shields were shown to reduce immediate viral exposure by 96% when worn by a simulated health care worker within 18 inches of a cough. Even after 30 minutes, the protective effect exceeded 80%"
— Daniel J. Diekema, MD, MS Carver College of Medicine, The University of Iowa